Do you know that annoying feeling when you're trying to get a good shot of the beautiful scenery when all of a sudden, your friend decides to photobomb the picture?
Sure, it'll take a few more tries until you get that pesky friend out of the way, but it's worth the wait.
Photobombs can also be somewhat enjoyable or a pleasant surprise. Don't believe us? Well, Miley Cyrus and Jimmy Fallon photobombed a couple of fans who visited The Voice's studio recently and it was epic. Watch the video here.
All this while, we Malaysians have been referring to the act of purposely 'enter-frame' photos as photobomb. But have you ever wondered if there's a word for 'photobomb' in Bahasa Malaysia?
Recently Dewan Bahasa dan Pustaka (DBP) released a few new words in Malay. Among them are photobomb, nap, and pick-up line.
Pick-up line is known as kata pikat in Malay while nap is now known as meridap. As interesting as these two new terms sound, nothing could ever compare to the Malay word for 'photobomb'.
Are you ready to have your minds blown?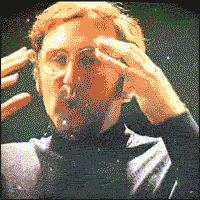 Tuna in Malay turns out isn't a fish.
It's actually… tunafoto! Yes, tuna and foto.
We know, you might be thinking, "Wait, isn't tuna fish?" Well, to be honest, we had the same thought too until we found out what it stands for in Malay.


According to DBP, tuna actually bears the meaning 'imperfect, hurt, or broke' in Malay.
Interesting, right? So, next time if you want to scold your friend for photobombing your pictures, tell them to go tunafoto somewhere else.
sumber: rojakdaily.com
NETIZEN TULAR PERKATAAN BARU BM
Sebenarnya, berapa kerapkah anda membelek kamus bahasa Melayu (BM) atau lebih tepat lagi, Kamus Dewan Bahasa? Pasti jarang-jarang sahaja bukan?Sikap malas membuka kamus BM menjadi punca utama mengapa sesetengah perkataan bahasa Melayu masih janggal digunakan dalam kehidupan seharian, malah seperti berbelit lidah mahu menyebutnya.Memang tak salah masyarakat mahu memperbaiki penguasaan bahasa Inggeris (BI) dengan mempraktikkan penggunaannya dalam kehidupan seharian.
Walau bagaimanapun, apa yang terjadi hari ini adalah penggunaan perkataan BI telah menenggelamkan bahasa kebangsaan kita.
Sejak dipaparkan di akhbar kelmarin (Khamis), senarai perkataan baharu bahasa Melayu telah meluas ditularkan di laman sosial.
Meskipun, kesemua perkataan itu sebenarnya sudah lama diterbitkan dalam kamus bahasa Melayu, namun penggunaannya yang kurang menyebabkan perkataan itu kelihatan seperti perkataan baharu.
Malahan, mungkin ada dalam kalangan masyarakat yang sememangnya tidak pernah melihat atau mendengar perkataan itu, jauh sekali mengetahui maksudnya.
Dengan perkongsian senarai perkataan itu di media sosial mendapat perhatian ramai netizen. Boleh dilihat, ramai juga yang cuba membina ayat dengan menggunakan perkataan tersebut.
Jadi bagaimana pula dengan anda? Bolehkah anda bina satu ayat dengan menggunakan perkataan yang disenaraikan?